Aiden hasn't quite grasped the difference between letters and numbers. When we are working on counting he will say "that is the letter two". To help him understand what is a number and what is a letter we "fished" for letters and numbers and sorted them.
I added foam numbers and letters to a container of water and gave Aiden a small drainer to fish them out.
I printed pages titled Letters and Numbers, put them in page protectors so the letters and numbers would stick, and taped them to the wall.
Aiden fished a letter or number out of the bucket, said what it was (with help from Mommy) and stuck it to the Letter or Number sheet.
We packed a lot of learning into our 15 minutes of fun! Aiden worked on sorting, naming the numbers and letters of the alphabet and colors.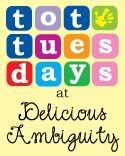 ~Cindy